Falls ihr den RSS Feed von notebookstories.com noch nicht abonniert habt, solltet ihr darüber nachdenken. Die bringen wirklich viele sehr gute Notizbuch Hinweise. Alternativ könnt ihr natürlich warten, bis die Rosinen auf Deutsch im Notizbuchblog präsentiert werden. Gestern stieß ich auf Writersblok Bamboo Paper Notebooks, das sind Notizbücher aus Bambuspapier:
Writersblok Bamboo Paper Medium Notebook 2 Pack Plain – Writersblok Bamboo Paper Medium Plain/Blank Notebook 2 Pack. 96 pages. Made with bamboo paper 80 gsm.
One each of 2 colored covers (red/white or green/black) all with plain/unlined pages. 2% of sales from Writersblok goes to helping kids learn to read and write. Size 5.5 X 8.25 inches. Kikkerland Design
Kaufen kann man die Bücher etwa bei revdesign; Preis: knapp 9 US $. Hergestelt werden die Bücher von writersblok(R), einer Marke von kikkerland(R). Einen weiteren Artikel zu anderen writersblok(R) Büchern findet ihr bei notebookstories.com unter Kikkerland WritersBlok Notebooks Now Available.
Hier ein Screenshot der Homepage von writersblok(R):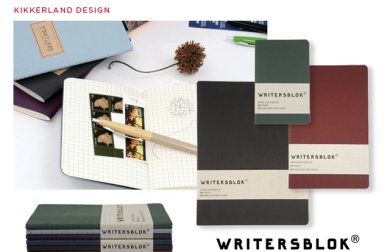 Ähnliche Artikel in der gleichen Kategorie:
Keine ähnlichen Artikel gefunden