Das Blog Journaling Arts hat sich auf die Fahne geschrieben, Notizbücher als kreatives Werkzeug zu erforschen: "Exploring Journals as a Creative Tools". Ein sehr schönes Beispiel für die kreative Nutzung eines Notizbuchs in der Kunst findet sich im Artikel Abstract Colored Pencil Illustration in a Moleskine Squared Journal. Darin ist beschrieben wie man die einzelnen Karos durch Ausmalen in ein abstraktes Kunstwerk verwandelt: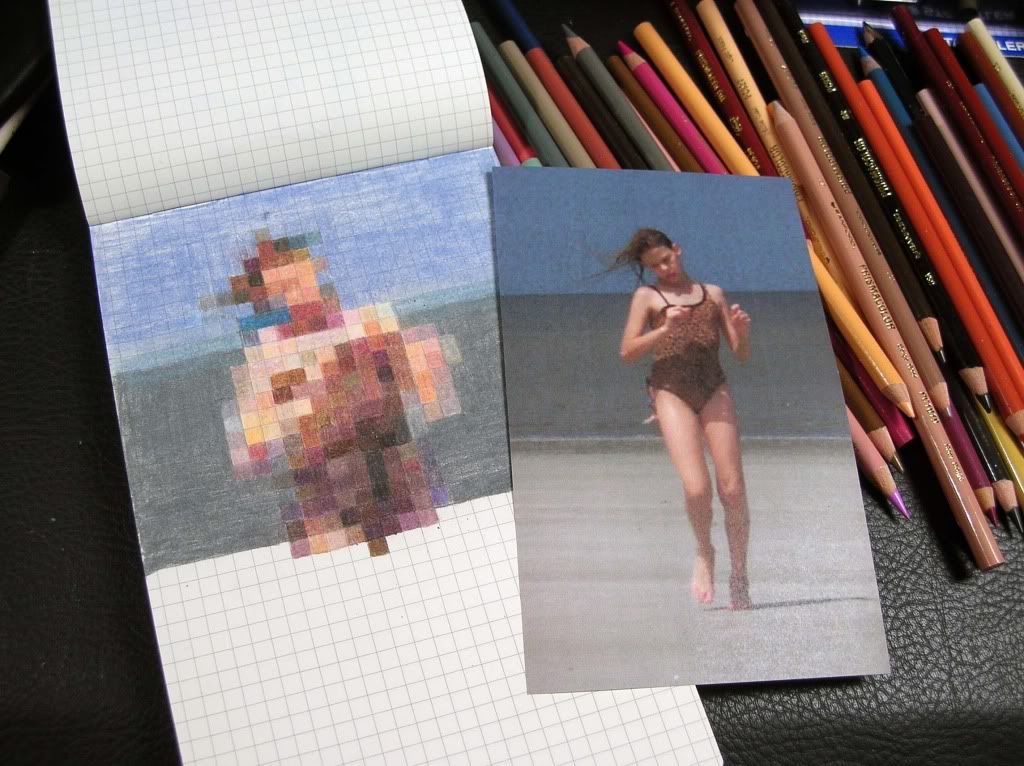 Zum Vergrößern bitte klicken
Doch wie kommt man von einem Foto zu den Farben der Pixel? Dazu gibt es folgenden pragmatischen Tipp, der allerdings etwas Wissen in Scannen und/oder Bildbearbeitung erfordert:
To help me with this illustration, I scanned the photo into Photoshop and I reduced the resolution to about 5 pixels per inch, which would give me a similar grid as the Moleskine squared Notebook. I used this scan to give me a range of colors for the illustration. I was surprised by how many variations of like colors this would require and I was glad to be using the colored pencils
Das Bild wird also in einer Auflösung gescannt, die die einzelnen Pixel in Größe der Karos beim Ausdruck ermöglicht. Alternativ kann man es aber sicher auch nachträglich mit einem Grafikprogramm modellieren. Dann braucht man eine große Bandbreite an Buntstiften, da die Farbabweichungen je nach Bild nicht besonders groß sind. Im Artikel finden sich die ganze Geschichte und einige Fotos vom Endergebnis. Anschauen!
Ähnliche Artikel in der gleichen Kategorie: